Discount International Express Shipping.
On average our customers save 10-20% off their current international express shipping rates.
International Shipping That's Fast, Reliable & Convenient.
​
Receive an ADDITIONAL 25% off the cost of your activation shipment
No pick-up fees
No weekly or monthly account maintenance fees
User-friendly shipping portal
DHL will pick up your packages and deliver them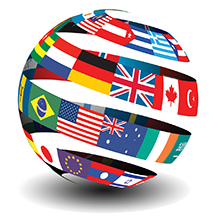 Whether you need to export documents to Israel, ship automotive components from China to the UK, import pre-production devices from your CM in Shenzhen, ship a crate of hard wood flooring to a domestic building site, ship a fragile architectural model to a Church in Seattle, ship a 53' intermodal trailer to a client in Alabama, or export a FTL of finished-goods to Canada or Mexico; we have the logistics solution to fit your budget and the expertise to guide you through the process.
Worldwide Priority Express
Express service for time-sensitive, door-to-door international shipments of any weight or size.
International Letters & Document Shipping via DHL Express
Provides express document delivery service to more than 80,000 destinations worldwide. Our door to door international letter and document shipping ensures that your time-critical documents arrive at the right time at the right place. These services are a necessity for companies requiring original documents and signatures. Learn more about our international letter and document shipping.
Import Express
Handles incoming shipments of any weight or size from more than 200 countries. InXpress has helped customers in every industry lower their shipping costs and improve productivity.
Discount Parcel & Freight Services
Benefits of Shipping With InXpress
Worldwide Coverage to More than 220 Countries and Territories
Domestic Freight Solutions with Over 40 Carriers
Market Leading Transit Times
Package Tracking
Insurance
We are available 24/7; supporting the demanding schedules of our SME clients and their diverse shipping needs.
Our team are trained Certified International Specialists. We know how to work with Customs Officials in foreign countries, and how to handle the paperwork requirements of potentially complex shipments like: Temporary Imports, Dangerous Goods, Dry-Ice packaging, and Firearms parts.
For non business shipments: consumers, click here to find your closest DHL Authorized Shipping location.
Would you like to learn more about how you can simplify your shipping operations?